In a historic event, Israeli diplomats conducted a Jewish prayer service in Saudi Arabia, showcasing the increasing normalisation of relations between the two nations.
Israel's Communications Minister Shlomo Karhi, who was in Riyadh for a UN postal conference, took part in the service during the Sukkot holiday. The gathering in Karhi's hotel involved a minyan of at least 10 men and included three Jews not affiliated with Karhi's delegation.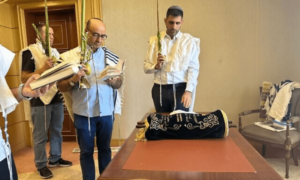 Participants in the service were seen wearing traditional prayer shawls and holding an etrog, palm, myrtle, and willow branches, symbolising the Sukkot holiday. They also read from a small Torah scroll a local Jewish individual provided.
היסטוריה בסעודיה: שר התקשורת של מדינת ישראל מתפלל בחג הסוכות כאן בריאד עם ארבעת המינים לעיני כל העולם, מי היה מאמין, התרגשות אדירה, ברוך בואכה בצל קורותינו 🇸🇦🇮🇱 @shlomo_karhi pic.twitter.com/x9ezoCu8hX

— محمد سعود מוחמד סעוד Mohammed Saud (@mosaud08) October 3, 2023
Minister Karhi, an Orthodox Jew, arrived in Saudi Arabia along with a delegation for the Universal Postal Union's 2023 Extraordinary Congress. This visit followed Israeli Minister Haim Katz's recent historic visit to the kingdom.