Pop superstar Taylor Swift premiered her Eras Tour concert film in front of fans and celebrities, shortly after announcing that the movie would debut a day early because of "unprecedented" ticket demand.
"Taylor Swift: The Eras Tour" was set to open in theaters worldwide, but high interest prompted Swift to add earlier screenings in some markets.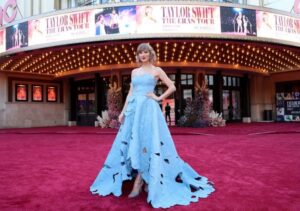 "Look what you genuinely made me do: Due to unprecedented demand we're opening up early access showings of The Eras Tour Concert Film on THURSDAY in America and Canada!!" the "Anti-Hero" singer wrote on social media.
Additional showtimes also were being added for the weekend, Swift said.
Late, Swift stepped on to a red carpet in a strapless pale blue gown for the film's world premiere. She posed for selfies with fans who scored a seat in one of thirteen auditoriums in an AMC Theatre at an outdoor mall in Los Angeles.
Pop superstar Beyonce also was in attendance, according to a photo posted by Swift on social media.
Ticket sales for Swift's movie, which is being distributed by AMC Theatres, are expected to set records for a concert film, and industry analysts have been upping their forecasts.