A Reuters video journalist was killed and six other journalists injured in southern Lebanon when missiles fired from the direction of Israel struck them.
The Israeli army said it was investigating an incident in southern Lebanon in which a Reuters journalist was killed.
"We are aware of the incident with the Reuters journalist," army spokesman Lt Col Richard Hecht told a regular briefing. "We are looking into it. We already have visuals. We're doing a cross-examination. It's a tragic thing," he said.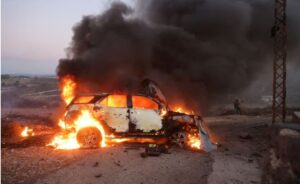 Lebanon said on Saturday said it would submit a formal complaint to the UN Security Council on "Israel's deliberate killing" of Reuters video journalist Issam Abdallah, a Lebanese national, state media reported.
Abdallah was with a group of journalists from other organisations, including Al Jazeera and Agence France-Presse, when he was killed on Friday while providing a live video signal for broadcasters.
The group was working near the village of Alma al-Shaab, close to the Israel border, where the Israeli military and Hezbollah have been trading fire in border clashes.